September saw the arrival of a new Creality Ender 3 3d printer at the Krypton Radio head office. The intent was to create new things to offer as station swag and perhaps create a new line of bespoke merch, something along the lines of props and costume pieces that people might want to buy from us.
I've been having a blast with it, and I'm trying to find new ways to use it that will benefit the company and myself. It's a new creative tool I can use to bring daydreams into the real world.
The Lightsaber
I'd always wanted one of these, from the first time I saw one in 1977's Star Wars, but the goal had always been out of reach. I printed one. This is the one carried by Obi-Wan Kenobi in the first Star Wars movie. 3d printers print in layers, so there are layer lines. You just sand the heck out of it and hit it with primer, and you'd never know it was 3d printed.
I'm working on modifying this one to add electronics to it, but I may just go with a completely different design, one that already supports the idea of adding a blade.
Sabacc Gambling Coins
These replica coins from the movie Solo: A Star Wars Story were printed in black PLA, like the light saber, then painted with black primer, then I added Rub'n'Buff. I hand-sewed a bunch of bags and put 18-20 coins in each one, and gave them to friends and family when we went to Disneyland's Galaxy's Edge last month for Life Day on November 18.
My friends and I had a lot of fun giving them to cast members and watching their reactions, which ranged from gratitude to amazement.
I later found out that the Imperial credits were about half-sized, so I'll be fixing that on future batches, but having bags of these was really something. I looked for a sabacc deck in the shops while I was there, but none of them had the decks in stock.
The Antikythera Mechanism
The Antikythera mechanism is an ancient Greek analogue computer used to predict astronomical positions and eclipses for calendar and astrological purposes decades in advance. It gets its name from the Greek island off the coast of which the device was found. It was fished out of the sea in 1901, and assumed to be some kind of archeological mistake – it couldn't possibly be from ancient Greece, could it? They didn't have computers – or did they?
The largest piece is this one. It's about eight inches wide, and seven inches tall, something around there. That's what I'm currently making.
The instrument is believed to have been designed and constructed by Greek scientists, and was made sometime around 70-60 BC. It was housed in a wooden box, about 13.4″x7.1″x3.5″, and they know this because they found bits of the box around it. After conservation, it came apart into 82 separate fragments, four of which contain gears, like this largest piece.
The Antikythera Mechanism originally had at least 30 meshing bronze gears, and up to 37 gear wheels that helped the device keep track of astronomical bodies like Mars, the Sun, and the Moon. It could predict eclipses, and could tell you when the next Olympic Games were going to be. It was extremely accurate as well, correctly reporting subtle variations in the lunar orbit, for example.
The device, housed in the remains of a 34 cm × 18 cm × 9 cm (13.4 in × 7.1 in × 3.5 in) wooden box, was found as one lump, later separated into three main fragments which are now divided into 82 separate fragments after conservation works. Four of these fragments contain gears, while inscriptions are found on many others. The largest gear is approximately 14 centimetres (5.5 in) in diameter and originally had 223 teeth.
All known fragments of the Antikythera mechanism are now kept at the National Archaeological Museum in Athens, along with a number of artistic reconstructions and replicas of the mechanism to demonstrate how it may have looked and worked.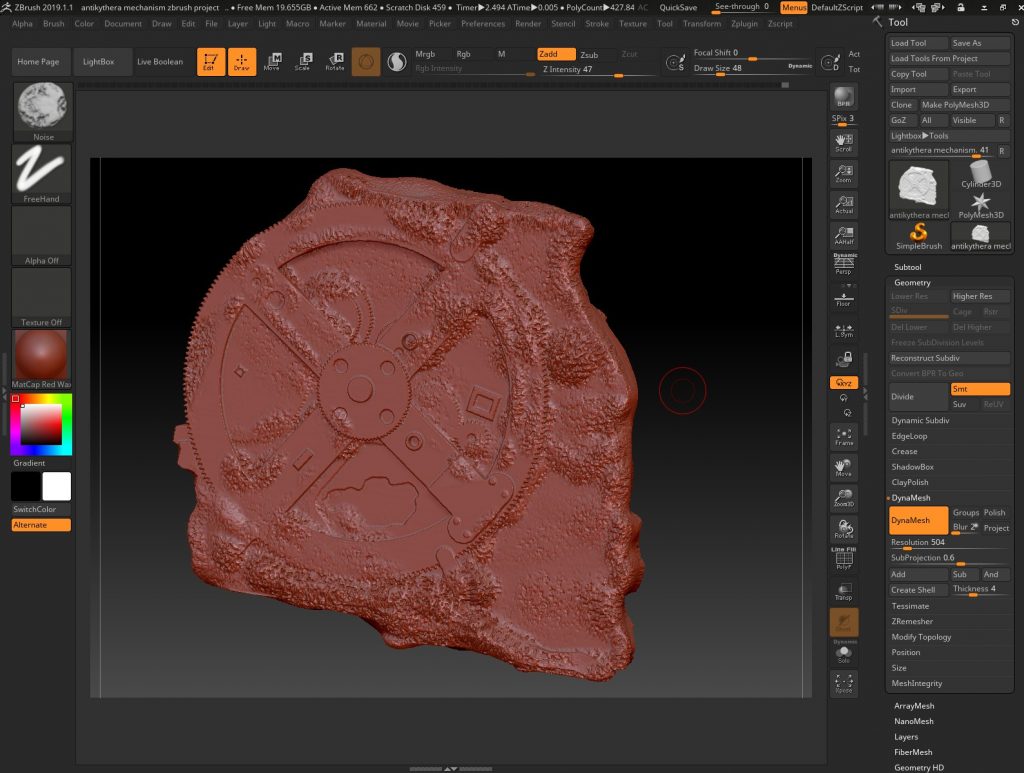 My version started as Cosmo Wenman's rough layout model of it, about the right shape, but with technically accurate placements of the bronze gears and metal features. Wenman's finished version makes use of a lot of post-printing texturing and paint, but I brought it into ZBrush and added corrosion detail geometry before sending it to my printer, so a lot of the details on mine will be already there when the printing is done. That will will take two and a half full days on my Ender 3 3d printer.
I thought for a while that my version might be too big, but I took a quick measurement of the main gear while it was on the printer, and yeah, it does look like it's about five and a half inches across, meaning that the size of my replica artifact is probably pretty close to the real thing.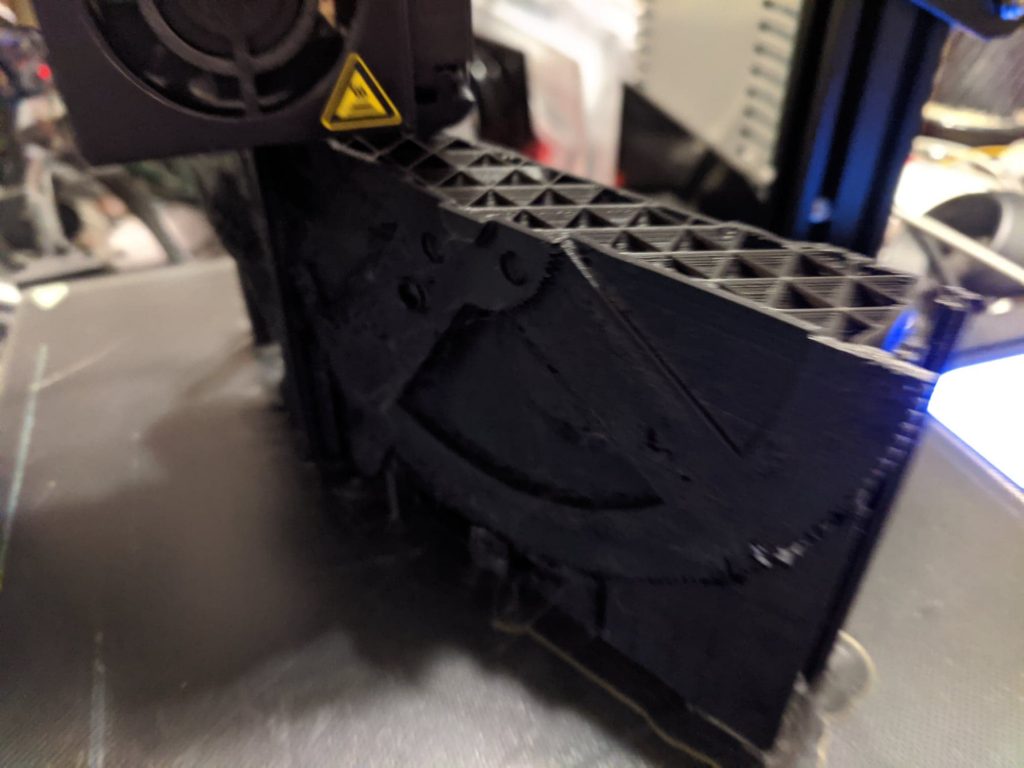 Once it's done, it gets a little cleanup with a brush to remove tiny filament strings, artifacts of the printing process. Then it gets painted, and I have purchased an artist's airbrush and compressor for the purpose. Whatever details that didn't make it into my sculpt I can probably fudge with paint. I figure once I get going it will take about a full day to paint it properly.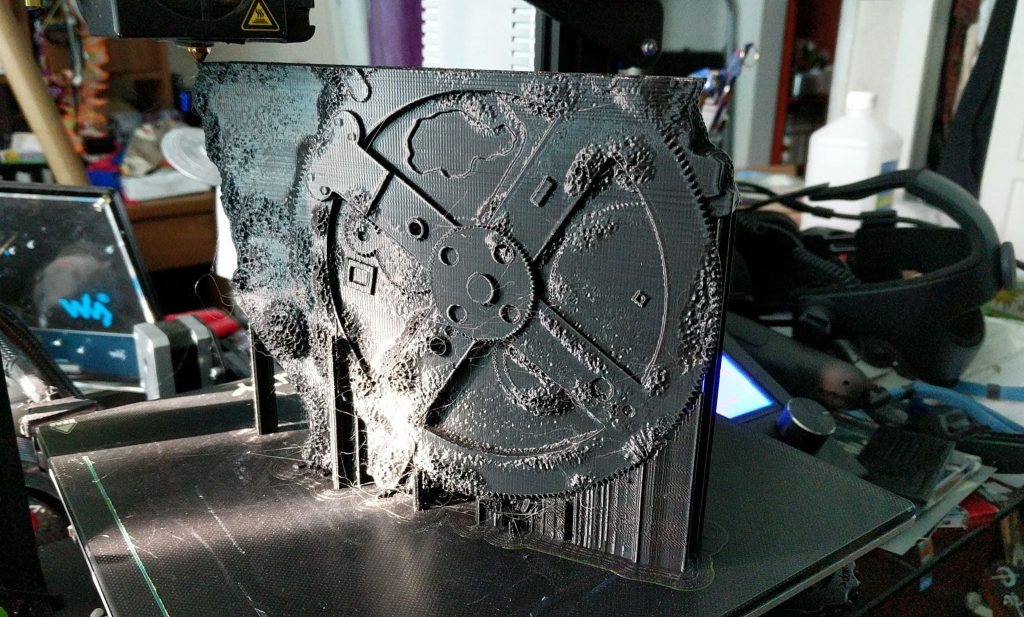 Rather than sand it all down, I used acrylic sculpting medium instead and just filled in the raster lines from the printing. Then I painted it all flat black, then airbrushed it and added some finishing touches of Rub'n'Buff to make some of the details pop. My airbrush work is – well, I need a ton more practice, let's put it that way.
Walt Disney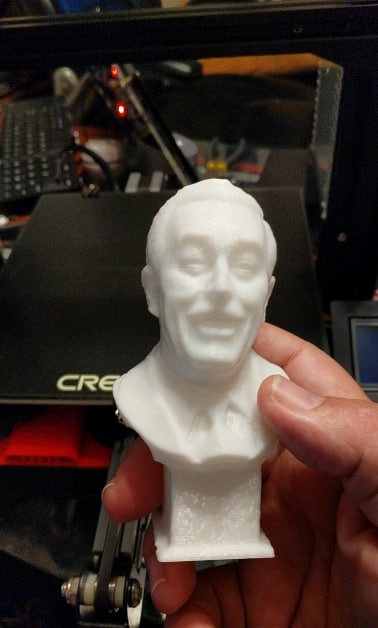 At Disneyworld in Orlando, Florida, there is a sculpture garden decorated with bronzes of famous Disney characters. One of them is a bust of the great man himself. Somebody took a 3d scan of it, and converted it into a geometry file, and being the fan of his work and the man himself as I am, I had to print a copy of it.
One of these days I'm going to print a really big one. The model is actually a lot better than the resolution of my printer can cope with at this size. Still, it's gorgeous, and I've given away three copies of this thing to my Disney-fan friends so far.
I'm sorry you're not still here, Walt, The world could use you. I'm doing my best to try to follow in your footsteps, but I'm not doing it very well, I'm afraid. I just don't have the reach you did – but that doesn't mean I'm going to stop trying. The world needs every bit of magic we can muster.
-30-